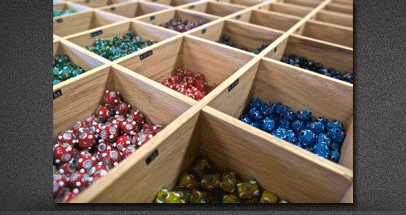 Meeting Location...
_________________________
The Point at CC Young
4847 W. Lawther Drive
Dallas, TX 75214

View Map
Meetings...

MEETINGS are held the first Saturday of the month, subject to holidays.
Doors open at 10:00 am for meet and greet. A short business meeting begins at 10:30 am.

A member of the Dallas Bead Society will typically teach a project, click here for additional project information. If there is not a specific project scheduled we may have a special guest lecturer, practice specific stitches for an upcoming National Teacher class, or etc. Information for next month's meeting will always be in the current newsletter. Newsletters may be found on the News page or on our Facebook page.

The meeting and class project are usually completed by noon; however, the room is reserved until 4:00pm so many people stay for open beading for the rest of the afternoon.

When planning to stay for the afternoon, some bring their lunch, some patronage restaurants in the area, and others frequent a cute café located in the building.