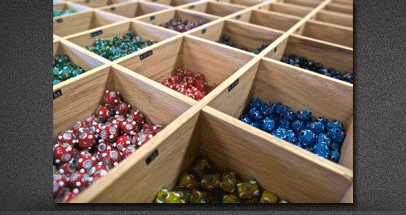 Other Links...
Here are a few links
MEMBERSHIP...
MEMBERSHIP in the Dallas Bead Society is based on a calendar year of January 1 through December 31.


Currently, annual dues are $30 for an individual and $40 for two members of the same family that reside together — spouses, parent/child, etc.
Prospective members may visit our monthly meetings twice before being asked to join the Dallas Bead Society. We want to ensure that everyone that joins is excited to do so.
Membership in the Dallas Bead Society is open to everyone regardless of skill level. We have a number of members who are happy to help beaders with their projects, whether one offered in a meeting or something of their own. We bring in National/Regional teachers each year and members receive the first opportunity to register for these classes. Classes are only offered to non-members if any seats remain, about 10 days after registration opens for members.
Dallas Bead Society is a great place to be inspired, learn, and establish friendships with like-minded hobbyists! We have lots of fun and enjoy seeing each other's work for ideas and inspiration. Come on by, we look forward to meeting you! Click here to download a membership form.
If you are unable to attend our meetings, please feel free to join our Facebook group by clicking here. Facebook is our primary source of on-line discussions, maps to our meeting locations, local stores, etc.