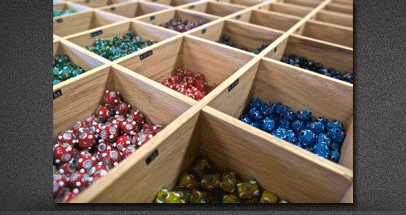 Other Links...
Here are a few links
National Teacher Workshops


What National Teachers are scheduled in the future?
Nancy Cain October 18-20, 2013
Laura McCabe March 7-9, 2014
What National Teachers has DBS hosted in the past? The list reads like a Masterís series
Jeanette Cook, Marcia DeCoster, Melanie Doerman, Wendy Ellsworth, Diane Fitzgerald, Leslie Frumin, Met Inman, Laura McCabe, NanC Meinhardt, Maggie Meister, Melanie Potter, Sherry Serafini, Cynthia Rutledge, and Judy Walker.
Why does the Dallas Bead Society (DBS) host National Teachers in Dallas?
This is a benefit to the members. About twice a year DBS contracts with nationally known Teachers who bring their workshops to us.
Why would I take a workshop from a National Teacher?
These teachers are renowned designers and educators who willing share what they have learned with others. Workshops stretch membersí knowledge and skills.
How are the National Teachers selected?
DBS works hard to keep the prices affordable for members. The costs are based on the Teacherís fee, the cost of a facility, lunch for the students, and other miscellaneous expenses. Considering what it costs to take a class at, for example, the annual Bead and Button Show, DBS workshops are very reasonably priced.
What does it cost to take a DBS workshop with a National Teacher?
The DBS Board usually selects National Teachers two years in advance. This is necessary because National Teachers have very busy schedules. Anyone may recommend a National Teacher to the Board at any time. The Board consists of the President, Vice President, Secretary, Treasurer, and three Advisors.
How are the workshops chosen?
The Teacher will advise the club of the currently available workshops. The first consideration is how long the workshop will be. Since the workshops are typically scheduled for Friday, Saturday and Sunday, most workshops are limited to one or two days. The Board then narrows the list to meet the needs of the members. This list is offered to the members to vote on what they want to learn. The most popular workshop is usually scheduled for Saturday, the second for Sunday, and the third for Friday.
What level of experience do I need to take a workshop from a National Teacher?
Everyone is encouraged to participate and learn. However, basic knowledge and application of the stitch and technique are needed prior to the workshop to keep the sessions progressing in the allotted time frame. DBS may offer a primer in the techniques at a regular meeting prior to the workshop. Contact a Board member if you have any questions.